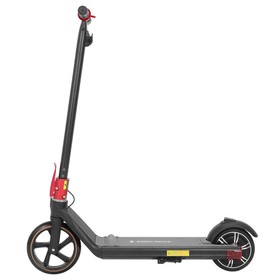 .span_txt{font-size:36px;font-weight:700}ul{margin:0;padding:0}i{font-style:normal}.pro_dec .p_txt{font-size:24px;margin:2% 0;line-height:normal}.posr_w{position:relative;max-width:1000px}.bac_cover{background-size:cover;background-position:center}.level_a_bg{padding-top:90%;background-image:url(https://img.gkbcdn.com/s3/d/202010/f75fb1b8-b19d-46c4-9285-6a393b796da2.jpg)}.level_a_txt{width:53%;margin:0;position:absolute;top:31.88889%;right:3%;text-align:left}.level_a_txt .span_txt{color:#ff221e;text-transform:uppercase;font-size:42px;line-height:64px;display:block}.level_a_txt .p_txt{font-size:30px;line-height:40px;color:#fff;margin:0}.level_a_ul{padding:2% 0;font-size:0;background-color:#000}.level_a_ul li{width:25%;text-align:center;display:inline-block;border-right:1px solid #8b121b;-webkit-box-sizing:border-box;box-sizing:border-box}.level_a_ul li:last-child{border:none}.level_a_ul .level_a_li_bg{vertical-align:top;height:47px;display:inline-block}.level_a_ul .level_a_li_bg1{width:34px;background:url(https://img.gkbcdn.com/s3/d/202010/105e6c4c-15a9-45f2-acfe-38b360414782.jpg) no-repeat center}.level_a_ul .level_a_li_bg2{width:40px;background:url(https://img.gkbcdn.com/s3/d/202010/b18a2188-6c0e-49fe-820d-79abbd9cfe51.jpg) no-repeat center}.level_a_ul .level_a_li_bg3{width:40px;background:url(https://img.gkbcdn.com/s3/d/202010/dce42a27-0b7a-4b70-8215-acb75418974b.jpg) no-repeat center}.level_a_ul .level_a_li_bg4{width:37px;background:url(https://img.gkbcdn.com/s3/d/202010/5c4e4e35-b332-421d-98e2-4de3d2b600f2.jpg) no-repeat center}.level_a_ul .span_txt{font-size:45px;height:40px;line-height:40px;color:#fff;display:block}.level_a_ul .span_txt i{font-size:24px;font-weight:normal}.level_a_ul .p_txt{font-size:15px;line-height:18px;color:#bcbcbc;vertical-align:top}.level_b{background-color:#fff;padding-top:10%;padding-bottom:2%;position:relative}.level_b .level_b_bg{padding-top:73.4%;background-image:url(https://img.gkbcdn.com/s3/d/202010/238f30b4-c98a-43de-8016-bc2dace19cf2.jpg)}.level_b .level_b_bg .span_txt{padding-bottom:4%;line-height:60px;text-align:center;color:#fff;display:block}.level_b .level_b_bg .p_txt{font-size:20px;text-align:center;color:#b4b4b4}.level_b .level_b_txt{width:60%;text-align:center;position:absolute;top:6%;left:30%}.level_b .level_b_images{width:640px;height:290px;position:absolute;top:38.46154%;left:26.3%}.level_b .level_b_images i{font-size:24px;color:#fff;position:absolute;bottom:5px;left:21.73913%}.level_b .level_b_images .level_b_image1{width:322px;height:273px;background:url(https://img.gkbcdn.com/s3/d/202010/6361f16d-1af8-42fb-9065-e12a6a08cec3.jpg) no-repeat center;display:inline-block;position:relative}.level_b .level_b_images .level_b_image2{width:312px;height:273px;background:url(https://img.gkbcdn.com/s3/d/202010/e7c14405-81a2-4ec5-ad50-b703f2e9cb57.jpg) no-repeat center;display:inline-block;position:relative}.level_b .level_b_images .level_b_image2 i{left:31.0559%}.level_c{background-color:#0e0e0e;padding:2% 0}.level_c_txt{text-align:center;margin:4%}.level_c_txt .span_txt{width:90%;color:#fff;padding-left:4%;display:inline-block}.level_c_txt .p_txt{color:#fff;line-height:32px}.level_c_bg{padding-top:67%;background-image:url(https://img.gkbcdn.com/s3/d/202010/36c46930-e5cd-481b-acc8-b43616034878.jpg)}.level_d{padding-bottom:2%}.level_d .level_d_txt{text-align:center;margin:4%}.level_d .level_d_bg{width:100%;margin:0 auto;font-size:0;position:relative}.level_d .level_d_bg span{max-width:490px;background-color:#e60400;color:#fff;font-size:22px;line-height:30px;height:60px;text-align:center;display:block}.level_d .level_d_bg .level_d_bg1{margin-right:20px}.level_d .level_d_bg .level_d_bg1 span{line-height:60px}.level_d .level_d_bg .level_d_bg1,.level_d .level_d_bg .level_d_bg2{display:inline-block;vertical-align:top}.level_e .level_e_bg{padding-top:81.8%;background-image:url(https://img.gkbcdn.com/s3/d/202010/7611482c-0d3c-46d7-8eaf-5b963b08c77e.jpg)}.level_e_txt{width:100%;text-align:center;position:absolute;left:0;top:2.44499%}.level_e_txt .span_txt{color:#fff}.level_e_txt .p_txt{font-size:22px;color:#fff}.level_f .level_f_bg{padding-top:74.7%;background-image:url(https://img.gkbcdn.com/s3/d/202010/0b3e2a79-8aae-4245-9164-3deb66f11d2e.jpg)}.level_f_txt{width:57%;text-align:left;position:absolute;top:39.08969%;left:0}.level_f_txt .p_txt{font-size:20px;color:#505050}.level_g{background-color:#1b1c20;padding:2% 0}.level_g_txt{padding-bottom:3%}.level_g_txt .span_txt{color:#ff221e;text-align:center;display:block}.level_g_ul{font-size:0}.level_g_ul li{width:25%;display:inline-block;text-align:center;vertical-align:top}.level_g_ul .span_txt{width:28px;height:28px;border-radius:100%;color:#fff;font-size:18px;background-color:#ff221e;text-align:center;margin:2% auto;display:block}.level_g_ul .p_txt{font-size:16px;color:#fff}.level_g_ul .level_g_li_bg{width:171px;height:171px;margin:0 auto;display:block}.level_g_ul .level_g_li_bg1{background-image:url(https://img.gkbcdn.com/s3/d/202010/2fce9456-0b7c-46a5-a07c-c6ba3741b3b8.jpg)}.level_g_ul .level_g_li_bg2{background-image:url(https://img.gkbcdn.com/s3/d/202010/fbd77d71-fbc3-4c41-a235-1b86b143e9a3.jpg)}.level_g_ul .level_g_li_bg3{background-image:url(https://img.gkbcdn.com/s3/d/202010/4f7210e5-41e9-4bf7-8c92-f1691f08159e.jpg)}.level_g_ul .level_g_li_bg4{background-image:url(https://img.gkbcdn.com/s3/d/202010/a2b982f7-6f69-42b3-9157-0f5133293576.jpg)}.level_h{background-color:#f6f6f6;padding:2% 0}.level_h .level_h_bg1{width:412px;display:inline-block;margin-right:40px;margin-left:20px}.level_h .level_h_bg1 img{width:412px;height:460px}.level_h .level_h_bg2{width:490px;display:inline-block}.level_h .level_h_bg2 img{width:490px;height:200px}.level_h span{font-size:20px;color:#000;padding:10px;text-align:center;border:1px solid #000;display:block}@media only screen and (max-width: 640px){.pro_dec .span_txt{font-size:.875rem;font-weight:400}.pro_dec .p_txt{font-size:.75rem;padding:.625rem 0;margin:0}.level_a_bg{padding-top:90%;background-image:url(https://img.gkbcdn.com/s3/d/202010/17147527-a594-4e57-98d8-bf6692d82bf4.jpg)}.level_a_txt .span_txt{font-size:1rem;line-height:1.25rem}.level_a_txt .p_txt{line-height:1rem}.level_a_ul li{width:50%;margin:2% 0}.level_a_ul .level_a_li_bg{vertical-align:top;height:47px;display:inline-block}.level_a_ul .level_a_li_bg1{width:34px}.level_a_ul .span_txt{font-size:1.25rem;height:1.875rem;line-height:1.875rem}.level_a_ul .span_txt i{font-size:.875rem}.level_a_ul .p_txt{font-size:.75rem;line-height:1rem;padding:0}.level_b .level_b_bg{padding-top:73.4375%;background-image:url(https://img.gkbcdn.com/s3/d/202010/21e815d3-4b1c-4fc0-b3be-7c84325b6a42.jpg)}.level_b .level_b_bg .span_txt{line-height:1.25rem}.level_b .level_b_images{width:100%;height:auto;position:static}.level_b .level_b_images i{font-size:.875rem;position:absolute;bottom:5%;left:0;width:100%;text-align:center}.level_b .level_b_images .level_b_image1{width:100%;height:273px}.level_b .level_b_images .level_b_image2{width:100%;height:273px}.level_b .level_b_images .level_b_image2 i{left:0}.level_c{padding:3% 0}.level_c_bg{padding-top:67.03125%;background-image:url(https://img.gkbcdn.com/s3/d/202010/50cb98b5-8992-49f2-8d45-ebd7ad45682b.jpg)}.level_c_txt .p_txt{line-height:1rem}.level_d .level_d_bg img{width:100%}.level_d .level_d_bg span{width:100%;font-size:1rem;line-height:1.25rem;height:2.5rem}.level_d .level_d_bg .level_d_bg1{margin-right:0}.level_d .level_d_bg .level_d_bg1 span{line-height:2.5rem}.level_e .level_e_bg{padding-top:81.875%;background-image:url(https://img.gkbcdn.com/s3/d/202010/486d3195-5529-45be-843d-e79ba55d380a.jpg)}.level_f .level_f_bg{padding-top:74.6875%;background-image:url(https://img.gkbcdn.com/s3/d/202010/aa3bd233-86c7-4c9b-8bc9-0946fddfbad2.jpg)}.level_g_ul li{width:50%}.level_g_ul .span_txt{font-size:1rem}.level_g_ul .p_txt{text-align:center}.level_g_ul .level_g_li_bg{width:150px;height:150px;background-size:100%}.level_h .level_h_bg1{width:100%;margin-bottom:2%;margin-right:0;margin-left:0}.level_h .level_h_bg1 img{width:100%;height:100%}.level_h .level_h_bg2{width:100%}.level_h .level_h_bg2 img{width:100%;height:100%}.level_h span{font-size:1rem;margin:2% auto}}
This item only ships to the USA. (Not include offshore area: Alaska, Hawaii, Guam, Puerto Rico, American Samoa, Northern Mariana Islands, Virgin Islands, Federal States of Micronesia, Marshall Island, Palau, Armed Forces Americas..)
Highlights
Front 8 Inch Rear 6.5 Inch Solid Tires
Front 8 Inch Rear 6.5 Inch Solid Tires, taking into account the shock absorption and safety, riding more comfortable.
4Ah Lithium Battery
It has a 4Ah lithium battery which allows for a longer range and higher speeds.
Brushless Motor
The strong driving force, 150W motor, Max 10~15km running distance.
Fold Easily
Fast-folding design, stable and convenient.
Economic Space Occupation
854*420*340mm folding size, space-saving, and portable to carry, easily cope with heavy traffic.
RoHS & CE Certification
Passed RoHS and CE verification, it is a safe product.
KUGOO Kirin MINI2
The fun choice for light riding
 

15km/h

Max Speed

 

65kg

Max Load

 

IPX4

Waterproof

 

150w

Brushless Motor
Dual Brakes for Ultimate Control
With a combo of electric brakes and a back foot brake, it provides extra protection.
Electric brake Foot brake
Speedy Ride with Less Noise
150w strong powerful brushless motor provides a quick speed with less noise allowing it to climb steep roads angled at 5°.
Comfortable Handling and Extra Safe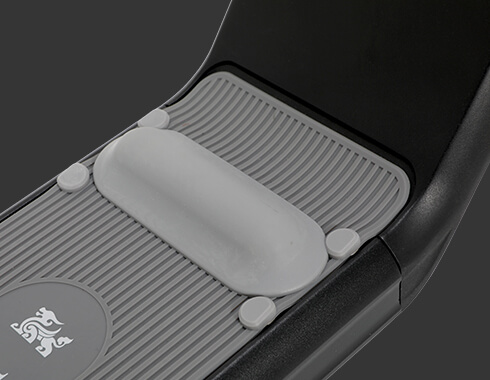 ·Quick rebound foot pedal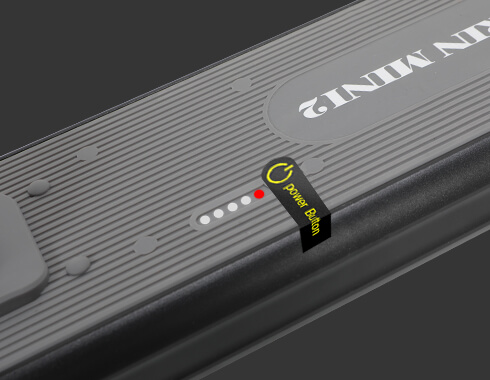 ·Power button and speed mode switch – 5/10/15km/h
Effective Anti-skid Protection
We Put a layer of rubber on handle bar and platformto keep you safe.
High Quality Tire Construction
8.5" Front Solid Tire makes powerful water dispersion and exceptional grip on-road
Creative Folding Construction Design
1

 

Step 1:Turning the Pole to 45°

2

 

Step 2:Unlock the Buckle

3

 

Step 3: Move the Pole

4

 

Step 4: Lock the Pole to Rear Fender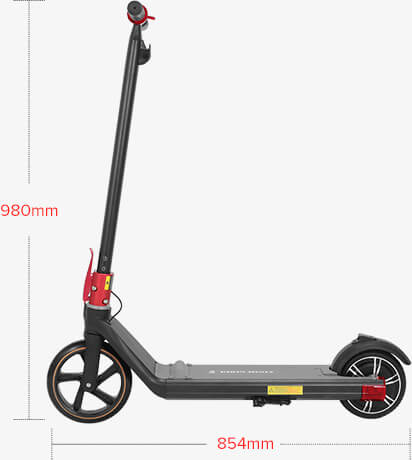 Unfolded: 854 x 420 x 980mm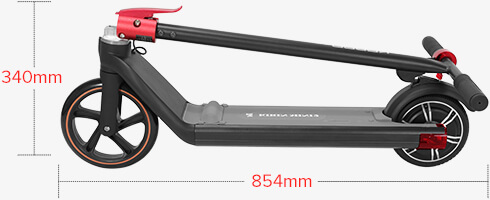 Folded: 854 x 420 x 340mm
Specification
General

Brand: KUGOO
Type: Electric Scooter
Model: KIRIN Mini 2
Color: Black / White

Specification
Max Supported Weight: 65KG
Max Speed: 15 km/h
Motor Power: 150W
Charging Time: 4-5 hours
Tire Size: Front 8 Inch Rear 6.5 Inch
Battery Capacity: 21.6V  4Ah
Brake Distance: 4-10M
Max Distance: 10-15 km
Battery Type: 4Ah lithium battery
Weight & Size
Product Weight: 8.9KG
Package Weight: 10.2KG
Product Size(L x W x H): 854*420*980mm
Package Size(L x W x H): 854*420*340mm
Package Contents

1 x Electric Scooter
1 x Charger 
1 x User Manual
1 x Package Bag
$("#Description img.product_lazy").lazyload({
effect: "fadeIn",
threshold: 240,
event: "scroll"
});