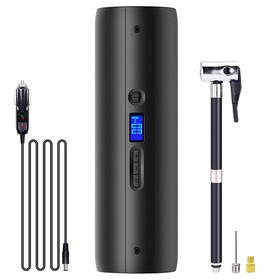 Support Free Shipping for countries:
Germany, Netherlands, Poland, France, Italy, Spain, Austria, Belgium. (Extra Freight will be charged in remote areas.)
Highlights
Maximum inflation of 150 psi. The Cycplus car pump has an inflatable high pressure capacity up to 150 psi/10.3 bar. With a full charge, the battery can inflate an empty car tyre or 6 empty mountain bike tyres or 18 empty basketballs.
Multi-functional tyre pump: This electric pump is not only a power bank but also a torch. In case of emergency, the pump can be charged for Android and iOS mobile phone and with 80 lumens can provide 7 hours of permanent lighting.
The anti-glare FSTN LCD liquid crystal display: There are 4 types of unit values: psi, bar, KPA, kg/cm². You can adjust the tyre pressure to meet your needs and read the tyre pressure at any time.
Electric mini pump: The size is only 5.6 x 5.6 x 17.3 cm and the pump weighs only 336 g. The design is unique.
– – – Caution: do not turn on the air pump while it is being charged.
1. After 5-10 minutes of continuous pumping, we recommend letting the pump rest.
2. Please do not forget that the battery air pump should be charged every two months, even though it has not been used.
3. Do not pull out the air hose until it has cooled down, as it heats up after uninterrupted work. (If you need the air hose as a replacement, please contact us and we will always be there for you.)
4. All products have a two-year guarantee and lifetime service. If you are not satisfied with the product, you are entitled to a new replacement. Don't worry about exceeding the time limit to get it.
5. Unit conversion: 1 BAR = 1 kg / CM2 = 14.5 PSI = 100 KPA
A5 has the attribute of 150 PSI
You can easily preset the pressure inside the A5 air pump
You can conveniently use the provision of auto stop that gives you good control of using the equipment
There are 4 units in the component
There is an advanced, clear, and user-friendly provision of LED lighting
Top-rated China Portable Electric Air InflatorA5 has a well-defined LCD display
There is a separate cable for cigarette lighter that you can flexibly use
A strong power bank lets you use the A5 equipment more conveniently
We are committed to providing the best service to every customer.
A protective plate of the battery is crucial for a battery-powered air pump.
CYCPLUS renewed A5 air pump has built-in battery protection plate, can protect the batteries and extend the life of the batteries.
The main thing is to ensure safety.
Voltage monitoring – battery overcurrent protection and overdischarge protection temperature monitoring – there is high temperature protection when charging, low temperature protection when charging and high temperature protection when discharging etc. Discharge protection – let the four lithium batteries discharge evenly, keep in balance and extend the life of the batteries maximised. Short-circuit monitoring – the voltage is under protection, if it exceeds the nominal current the compressor stops. to avoid short circuit.
Inflate with one hand
Display the current tyre pressure.
After connecting to the tire valve, the current tire pressure is displayed, so you can always test if the tire is leaking.
The flexible air hose can be stored in a hole in the battery. It is space-saving.
Fully automatic inflation
First set the target pressure and then press the power button. It will automatically stop when the preset value is reached.
The glare-free LCD liquid crystal display
The screen incorporates FSTN technology and offers a wider viewing angle with higher resolution.
This makes the screen ideal for outdoor applications. You can easily see the tyre pressure, battery level and four air pressure units.
Your replacement power source on the journey.
Built-in lithium battery can be used as a mobile power supply for Android or iOS mobile phone for emergencies.
In the off state, you can press the button + continuously to turn the power bank on or off.
Bright flashlight at night
80 lumen LED light that provides up to 7 hours of continuous light to provide you with emergency lighting at night.
By pressing the U key continuously, the LED light can be turned on or off, which is used for lighting.
Practical tyre pump to meet your daily needs.
With accessories included, this air compressor has a wide range of applications.
The electric air pump is ideal for car tyres, French bicycles, wheelchair tyres, balls and swimming ring.
The fixed screwed valve connection allows a secure seal without leaks.
The inflation process takes only four steps.
Suggested air pressure: 2.3-2.5bar (car) 100-120psi (road bike) 30-50psi (mountain bike) 7-9psi (basketball)
Note:
Normally, the air pump should be charged every two months, although it has not been used. Power bank automatically turns off after 60 minutes of continuous work. After 8 minutes of continuous inflation, the pump stops automatically. Please wait 10 minutes before using it.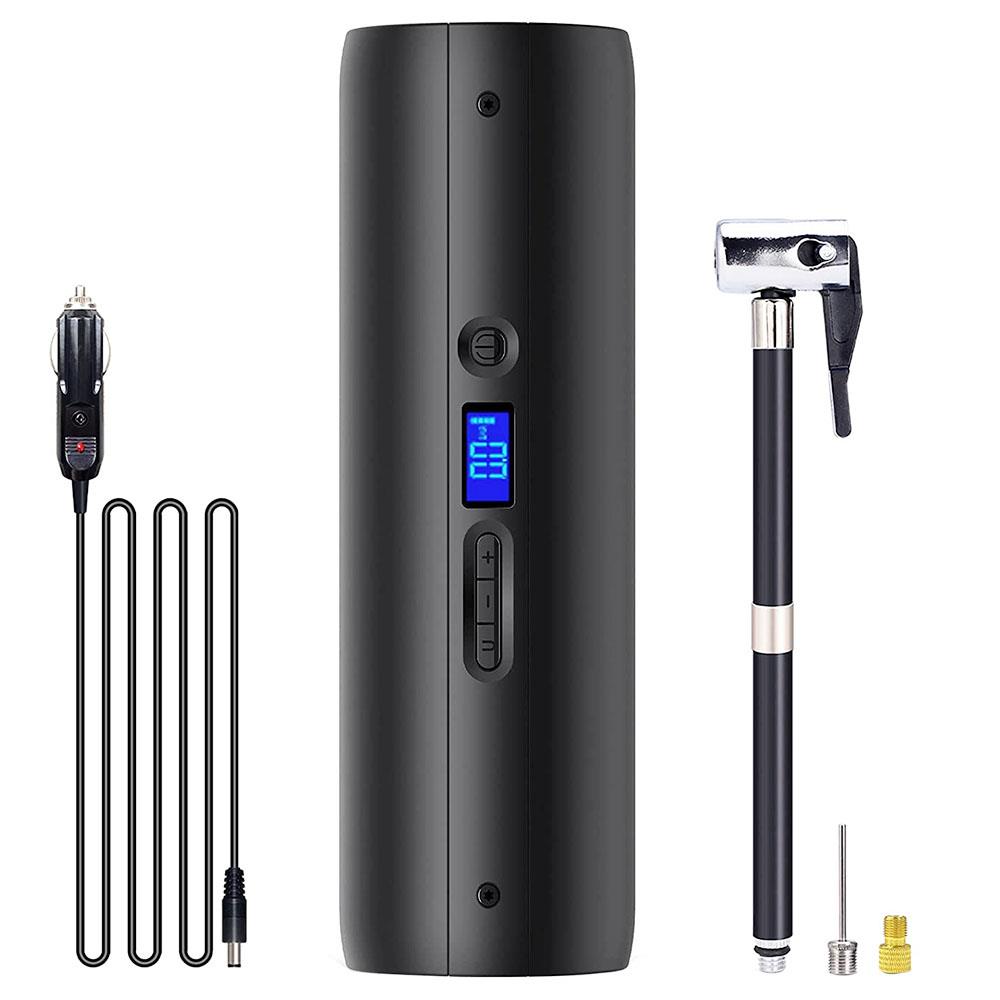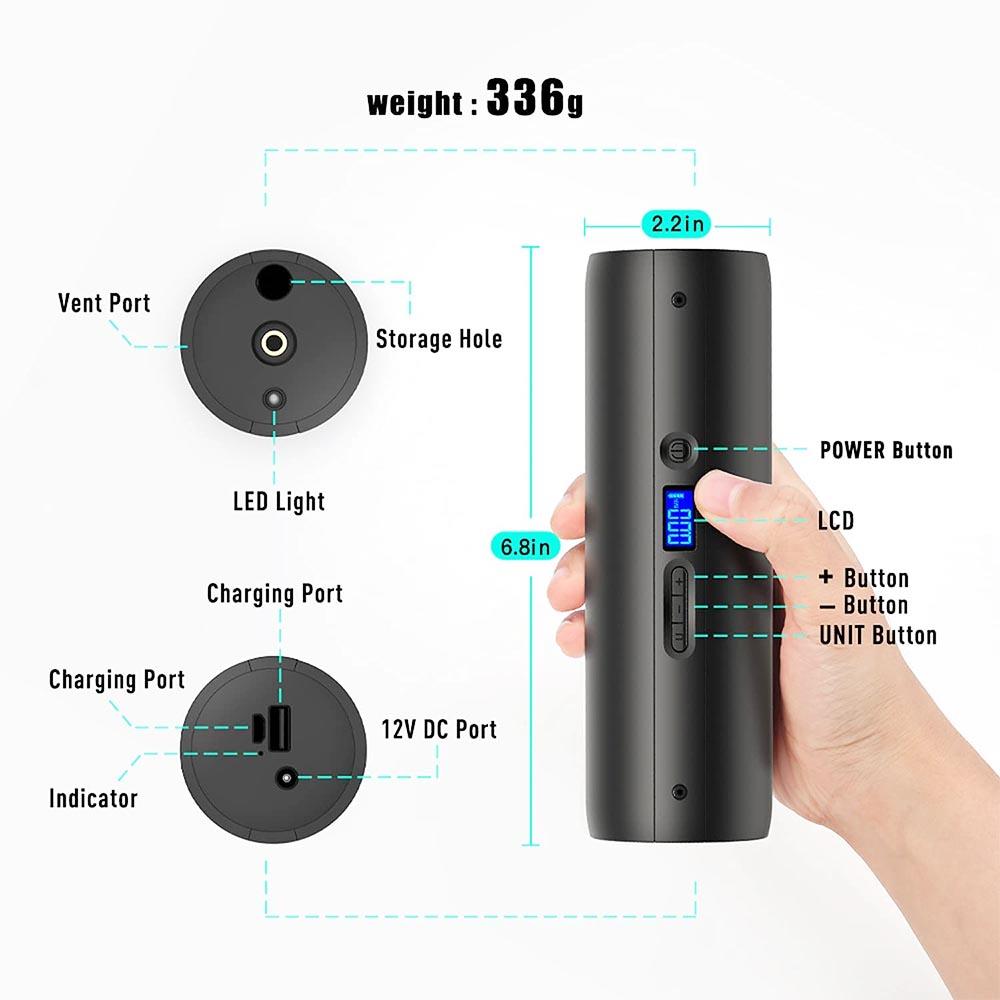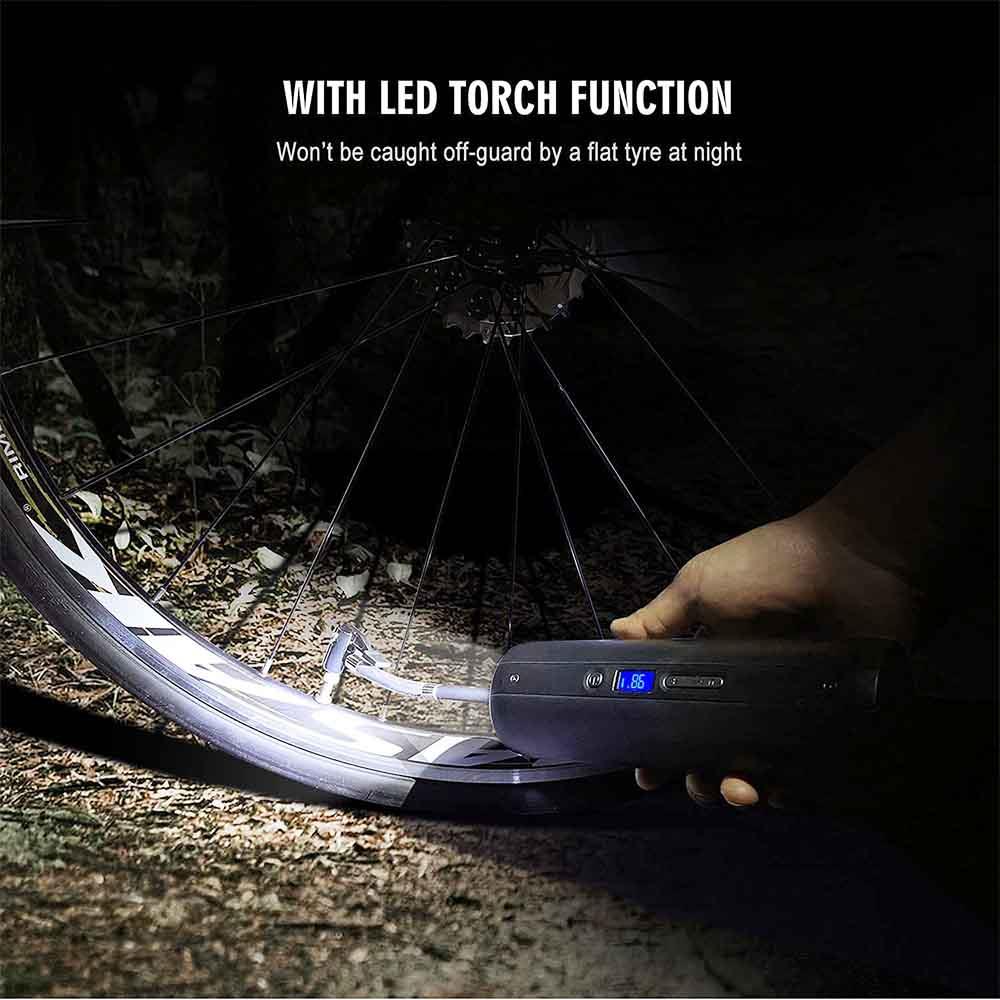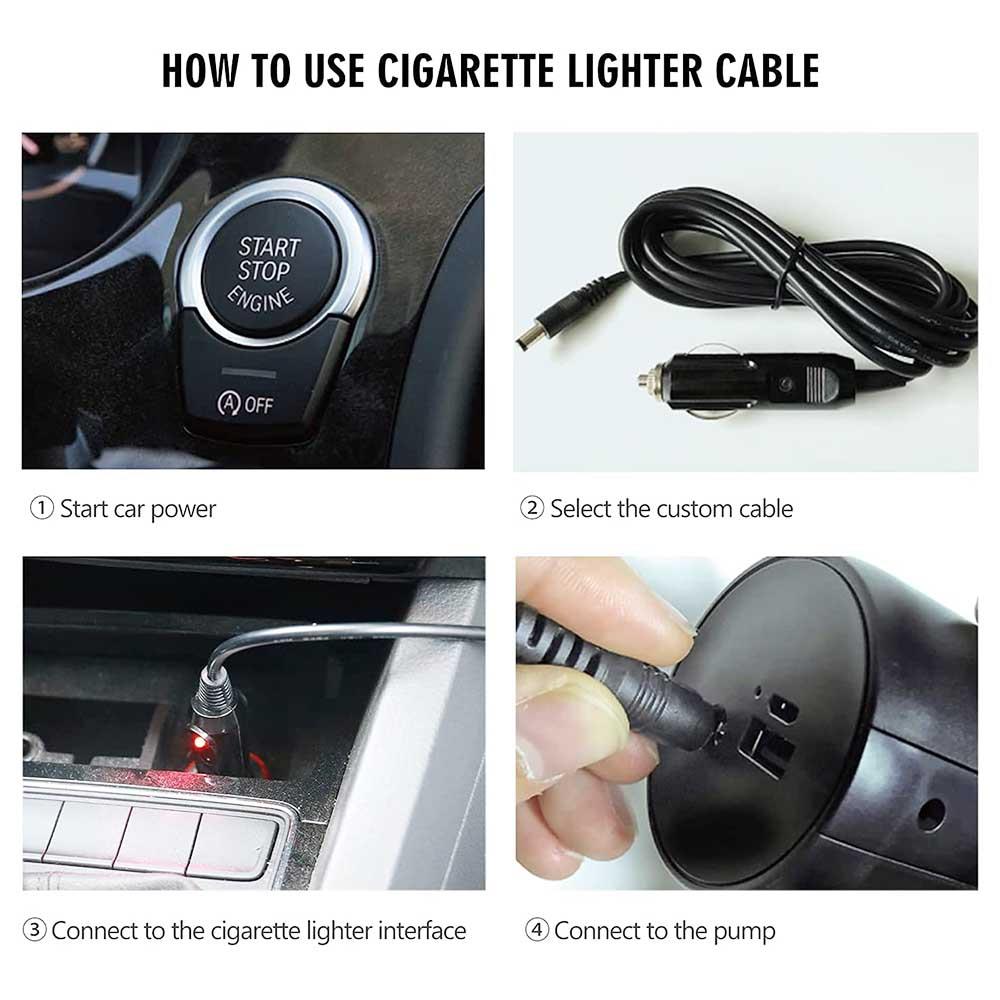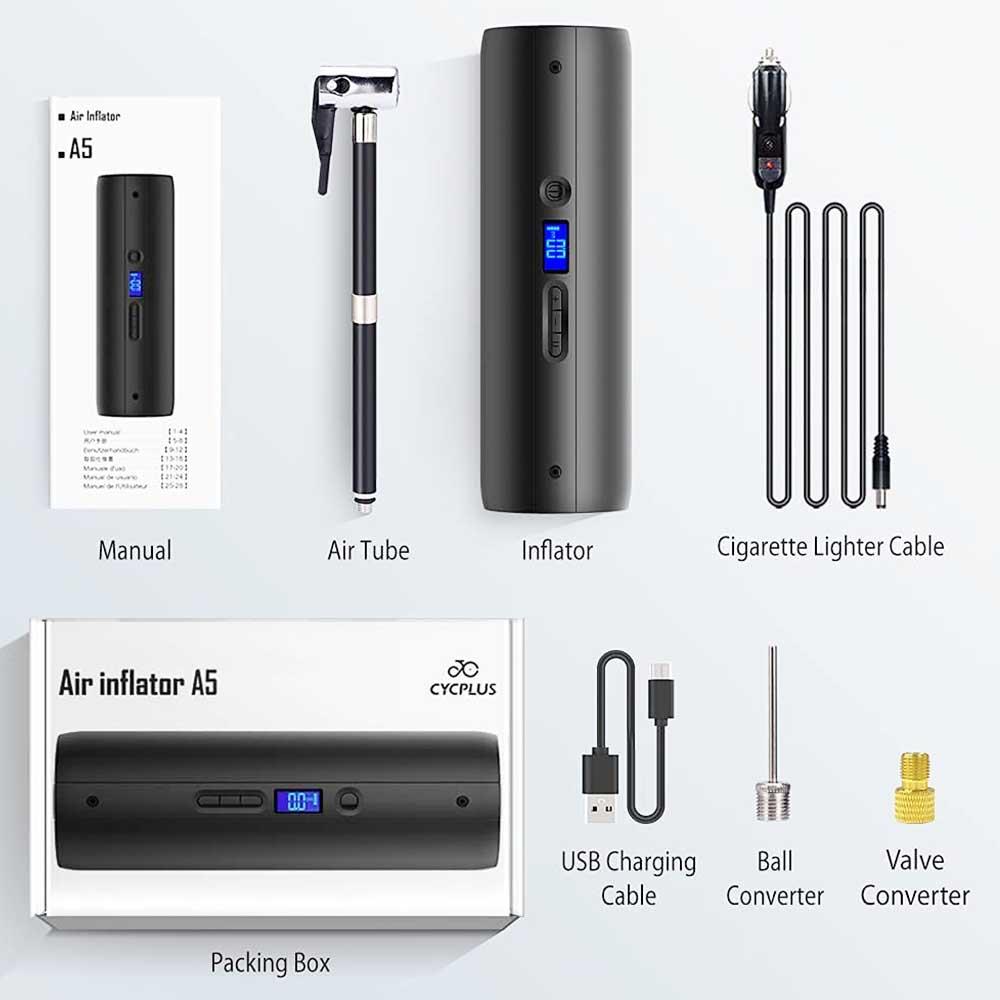 What's in the box?
1 x Inflator.
1 x Air hose.
1 x USB charging cable.
1 x Balloon converter.
1 x Valve converter.
1 x ball converter.
1 x 3 metre cigarette lighter cable.
$("#Description img.product_lazy").lazyload({
effect: "fadeIn",
threshold: 240,
event: "scroll"
});