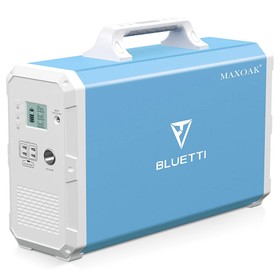 Highlights
[Huge Capacity 2400Wh Power Station] Super Long Lasting 2400Wh Power Station with High Load Continous 1000W Inverter (1000W≤load<1200W@120S; 1200W≤load@1s), Built in Top-Brand Lithium Polymer Battery Cell, Safety & Quality are Rest Assured. We Use Automobile-level 3C High Rate Battery Cell thus Has a Much Longer Life Cycle 2500+ Times.
[Multiple Ports for Any Needs] EB240 features with 2*AC 110V Outlets for Most Household Devices under 1000W Like TV, Refrigerator,Drone. 12V9A Car Port for Car Powered Devices like mini Fridge,Car Vacuum Cleaner,1*QC PD 45W USB-C for Laptop MacBook Air/Pro&USB-C Phones/iPad,4*5V3A USB for Phone,Tablet,Camera,Fans,Light,etc, and LED Lighting/SOS for Emergency Illumination. Keep Multi Devices Powered in Case Power Failure or Away from a Wall Outlet.
[Solar/AC/Generator Recharge] With a max input power of 500W, it can be fully recharged by 2pcs Sp200 200w solar panels within 9-9.5 hours. (OCV 16V-68V, SP200 solar panel not included),the pre-installed MPPT controller enables the recharging speed 40% faster. It can also get fully recharged from an AC wall outlet and generator in 12 hrs (200W adapter included).
[2500+ Long Life Cycle] With built in Auto-level battery cell, it has higher discharge rate, lower heat and safer than the ordiry battery cores, the cycle life is 2500+. It's noise-free, zero emissions,. Battery Magement System (BMS) enable voltage/current control, temperature control and more advanced safety functions.
[What you Can Get] 1*Portable Power Storage (EB240), 1*200W AC Wall Charger, 1*PV Solar Charging Cable(DC7909 to MC*4), 1*User Manual
BLUETTI EB240 Portable Power Station
Capacity: 2400Wh/1000W
Load: Continuous 1000W(1000W-load-1200w@2mins,Above 1200W,turn off)
Top-Brand Lithium Polymer Battery Cell ,2500+ cycle life
Multi-Outputs for Various Power Needs: 2* 110V AC Outlets(Pure sine wave), 12V/9A Car port,1* PD 45W USB-C and 4*5V/3A USB
Regulated DC12V,Care for Car-powered Devices.
Solar Input: Max.500W, OCV 16-68V,Current Max.10A, MPPT
2400Wh/1000W Portable Power Station
Indoor/Outdoor Clean Solar Generator
If you want to find a long lasting and high load portable power station for your household/RV/Camping/tailgating/garden device, that is the best choice.
Below is the highlights for EB240:
LCD Screen-Easy to Read/Monitor
The LCD Screen can display the charging status, the remaining power, the input/output power, and If the product malfunctions, error codes will be also displayed on screen.
Pure sine wave for AC outputs.
Constant regulated DC12V.
Solar charge mode:MPPT
Intelligent Cooling Control
Solid Aluminum alloy shell
Huge Capacity 2400Wh with 1000W AC Power
· It is an ideal backup battery with capacity 2400Wh which is lots of power for most appliances.This could be a lifesaver in emergency situations such as power outages from hurricanes where a person still has access to power.The Portable Power Station is perfect for the roof of a car, the bow of a sailboat or atop an RV – almost anywhere that you need a source of clean energy.
· load capability:Continuous 1000W.
over load capability :1000W≤load<1200W last for 120S;1200W≤load,shuf off after 0.5s
AC/Solar/Generator Recharge
· AC Adapter (200W Charger Included): About 12.5Hrs
· Solar Panel (Not included): Solar input up to 500W/OCV 16-68v.
eg: 9-9.5Hrs( BLUETTI SP200 200W);
14.5-15Hrs( BLUETTI SP120 120W)
solar panel sold separately
· Generator:About 12.5Hrs
MPPT Built-in for Fast Solar Charging
· A pre-installed MPPT in the BLUETTI EB240 allows up to 40% faster charging speed from the solar panels.
· MAXOAK BLUETTI EB240 has a built-in MPPT controller,no need other controller.
Recommended Solar Panel: BLUETTI SP200 200W solar panel or BLUETTI SP120 120W panel ,We won't responsible for the conversion from third-party solar panels.
Auto-level Battery Cell, 2500+ Life Cycle
· we use the top brand lithium ion battery cell, it has longer life time(over 2500+), and higher discharge rate, better heat dissipation.
· we built in BMS(battery management system), it has over-load/ over-current/ over-temperature/ over voltage/ low-voltage/short circuit protection,
· Strict QC control and top Components ensure the quality and safety.
Intelligent Fan Start-up Cooling Control
Cooling fan will start working automatically when the following conditions are met :
1. The load of inverter exceeds 400w.
2. The load of 12V car port exceeds 80w.
3. The charging power of attached appliances exceeds 100W.
Check What you can Get
Package Includes:
1*Portable Power Storage (EB240),
1*200W AC Wall Charger,
1*PV Solar Charging Cable(DC7909 to MC*4), 1*User Manual,
1*Certificate of Qualification.
FAQ:
Q:What devices can be charged by EB240?
A:Check the rated power and peak power of your devices, so long as it not exceed 1000W, it can be charged by EB240. if the load is between 1000~1200W, it can last for 2mins.Load exceed 1200W, EB240 will shut off for overload protection.
Q:How to choose the compatible solar panel and how about the charge time?
A:The solar panel must meets below:
we suggest working voltage is >20V,Open circuit voltage(OCV) <68V, the Max. output current is max.10A,Max. 500W.
the charging time depends on the sunlight, the duration of the sunlight and the power of the solar panel.
if you connect the solar panels in parallel or in series, we suggest to use the same brand/model.not mix use.
Q:How long can be recharged by Solar Panel?
A:It depends on the input power of the solar panel and the strength of the sunlight.
for example,2pcs BLUETTI 120W solar panels can quickly charge the MAXOAK EB240 2400wh power station about 14.5-15hrs by connecting them in series.
2pcs BLUETTI 200W solar panels can quickly charge the MAXOAK EB240 2400wh power station about 9-9.5hrs by connecting them in series.
Tip: BLUETTI SP120 120w solar panel and SP200 200w solar panel are not included,you need to buy it separately
Q:What is life time of the EB240?
A: 2500+.
What's in the box?
1*Portable Power Storage (EB240),
1*200W AC Wall Charger,
1*PV Solar Charging Cable(DC7909 to MC*4), 1*User Manual,
1*Certificate of Qualification.
$("#Description img.product_lazy").lazyload({
effect: "fadeIn",
threshold: 240,
event: "scroll"
});