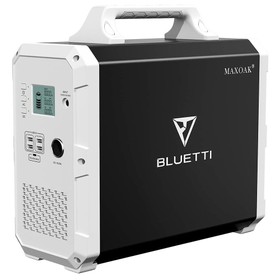 Highlights
[Huge Capacity Power Station] BLUETTI EB150 is equipped with 1500Wh lithium power storage, and with a large AC inverter 1000W, this Power Station is specially designed for high-power device such as blender, Drill, hair Dryer(Max.1000W). it meets various kinds of power needs and widely used for home use, outdoor activities, RV, etc.
[High Efficient Solar Generator] With a wide solar recharge range 16-60V(OCV) ,you can connect multi solar panels in series or parallel to provide Max.500W solar energy, and the pre-installed MPPT controller in the BLUETTI EB150 enable recharge the power station 40% faster. We suggest our BLUETTI SP120(120W) or BLUETTI SP200(200W) solar panel to recharge the power station.
[Multi Outputs for Various Power Needs] 2*110V AC outlets for most household appliance under 1000W Such as blender,TV, household dryer,laptops.1* regulated DC12V for car devices like mini-fridge, car vacuum cleaner,1*45W Type-C for USB-C devices such as Laptop MacBook/MacBook Pro & PD Type-C Phones,4*5V3A(Max) USB for phones, tablets,camera,fans,light and more,Keep multi daily-used devices running in case of unexpected power failure or away from a wall outlet,widely used indoor or outdoor.
[Solar/AC/Generator Recharge] 1)This power generator can be recharged from the sun with solar panel (Open circuit voltage must be 16V~68V(Max),Max 500W,solar panel not included). 2) This power station can be fully charged in 7.5-8 hrs by being plugged into the wall outlet.Charge time varies on the solar panel, eg. 2*BLUETTI SP200 Solar Panel in series: About 5-5.5Hrs. Tips:Car recharge: you need buy a power inverter(≥300W) yourself.
[What You Can Get] 1 * Portable power station(EB150), 1 * AC wall charger(200W), 1 * PV Solar Charging Cable(DC7909 to MC4,1.7meters), 1 * Manual
MAXOAK BLUETTI EB150 Portable Power Station, Power Indoor,Power Outdoor.
BLUETTI EB150 is a compact,silent and clean portable power station.Unlike other small capacity power station, it has broader capacity 1500wh and can charge higher power device like electric drill, hair dryer, blender (make sure the max. of your device is no more than 1000W). once fully recharged the power station EB150, the huge capacity 1500Wh ensure your device have a much longer charging time, no need to recharge it time and time again.
BLUETTI EB150 Portable Power Station
Capacity: 1500Wh/1000W
Battery Cell: Top-Brand Lithium Polymer Battery Cell ,2500+ cycle life
Load: Continuous 1000W(1000W-load-1200w@2mins,Above 1200W,turn off)
Multi-Outputs for Various Power Needs: 2* 110V AC Outlets(Pure sine wave), 12V/9A Car port,1* PD 45W USB-C and 4*5V/3A USB
Regulated DC12V,Care for Car-powered Devices.
Solar Input: Max.500W, OCV 16-68V,Current Max.10A, MPPT
Highest Capacity Portable Power Station
Green and clean power supply
EB150 has 1500 watt-hour power stored in the lithium battery pack. It has huge power for indoor use and outdoor use for of home/office daily use, outdoor enthusiasts, traveler, adventurer, campers, RV'ers, liveaboards, emergency power failure and ocean anglers. Besides its huge capacity and big load capability, it also has other features:
1500Wh / MAX.1000W Applications
Powerful and All-in-One Backup Battery for Outdoors
The BLUETTI EB150 lithium ion battery pack, 1500Wh capacity to keep most of daily devices charged. This portable power station can run big power devices(MAX.1000W),so it has more application than other smaller power station. it features with an easy carry handle for convenient carry around . Featuring 4 USB Outputs, Two AC Outlet, and Car Port for multiple applications.
Large Capacity 1500Wh Capacity with 1000W AC Power
· This huge-capacity 1500Wh(Top-Brand Lithium Polymer Battery Cell, ,101351mAh/14.8V(equivalent to 405405mAh 3.7V).With such a high capacity, you'll be able to charge multiple devices under 1000W, for example keep some indoor home appliances powered in case power breakout such as a microwave or mini-fridge(below 1000W) without any trouble. it is also a perfect emergency battery backup for outdoors such as some van lifer, camper, etc.you will never worry about power outage or far away from a wall outlet.
AC/Solar/Generator Recharge
· AC Adapter (200W Charger Included): About 8Hrs
· Solar Panel (Not included): Solar input up to 500W/OCV 16-68v, eg: 9-10Hrs( via 2pcs BLUETTI SP120 120W);5-6Hrs( via 2pcs BLUETTI SP200 200W,solar panel sold separately)
· Generator:About 8Hrs
· Tips:Built in MPPT,no need other controller.
· The solar charging efficiency is much higher with MPPT built in. it can track the strength of the sunlight and adapt to the best charging mode.
Multiple Outputs for Difference Devices
· with 2x(Pure Sine Wave),2x 12V/3A, 12V Car Port, 1x QC3.0 USB(Max.18W),1x PD2.0 USB-C(Max.40W),1x 5V/2.4A USB,the EB150 can power up to 8 devices simultaneously.
AC Inverter: Max.1000W(continuous),load 1000w~1200W last for 2mins. such as:
Mini Fridge
Air Mattress
Ice Shaver
Blender
Electric Cooker
Electric grill
Off-grid Power Backup for Outdoors
· Never Worry out of Power for Outdoor Activities. Stay Charged While On the go with MAXOAK portable power station EB150 solar generator.
· Intelligent Cooling Fan
· LCD display shows the remaining power and battery status timely. Backlight enables easy reading under the sun and will not disturb you during sleeping.
Auto-level Battery Cell, 2500+ Life Cycle
· we use the top brand lithium ion battery cell, it has longer life time(over 2500+), and higher discharge rate, better heat dissipation.
· we built in BMS(battery management system), it has over-load/ over-current/ over-temperature/ over voltage/ low-voltage/short circuit protection
Strict QC control and top Components ensure the quality and safety.
Package Included
· 1* EB150 Portable solar power generator *1pcs
· 1* AC wall charger (200W ac adapter charger)
· 1* PV solar charge cable(7909 to MC**4 PV solar charging cable )
· 1pcs* User manual 1*pcs
What's in the box?
· 1* EB150 Portable solar power generator *1pcs
· 1* AC wall charger (200W ac adapter charger)
· 1* PV solar charge cable(7909 to MC**4 PV solar charging cable )
· 1pcs* User manual 1*pcs
$("#Description img.product_lazy").lazyload({
effect: "fadeIn",
threshold: 240,
event: "scroll"
});